Uniquely located between the classic seaside towns of Hua Hin and Cha Am, Sheraton Hua Hin Resort & Spa provides an idyllic base to explore countless attractions from vintage summer palaces to the charm of its town's natural scenery.
The town combines the attractions of a modern holiday destination with the sense of an old-world charm. Rich in cultures and envisaged as a romantic and elegant gataway destination. This notion started off about 100 years ago when the Thai Royal Family members would spend their summers in this lovely region, this distinctive town combines a vibrant Thai heritage with ancient fish trade roots. Much of Hua Hin's attraction lie in the town's charming true color, best illustrated by in the country's oldest railway station constructed in the Thai architectural style "Hua Hin Railway Station" and the Marigadayavan Palace -- Palace of Love and Hope styled in a Thai-Victoria fashion. Here are some of a-must-visit:
For more information and assistance with tour arrangements, please contact our Concierge at (66)(32) 708 000, ext. 2125 or e-mail: concierge.01590@sheraton.com
KHAO TAKIAB TEMPLE
Khao Takiab Temple or Monkey Mountain as it is known locally is one of Hua Hin's most well known attractions and is well worth a visit if you are in town. Many Thai people come to this temple to pay respects to a big buddha up on a hill. On the way to a temple on the top, there are troops of monkeys that can be fed. For this reason it is referred to as 'Monkey Mountain'.
Hours : 8:00 AM - 5:00 PM Daily
Fees: n/a
PHRA NAKHORN KHIRI PARK
Phra Nakhorn Khiri Park has a rich history and is a very beautiful place in this tropical resort town. The main aspect is the palace that sits atop this 92 meter high mountain peak. It is also commonly called Khao Wang. Either way you say it, the park and its accompanying palace is a must see for tourists and locals alike.
Hours : 8:00 AM - 4:00 PM Daily
Fees : Thai THB 20.-net, Foreigner THB 150.-net Cable car : Adult THB 30.-net, Child THB 10.-net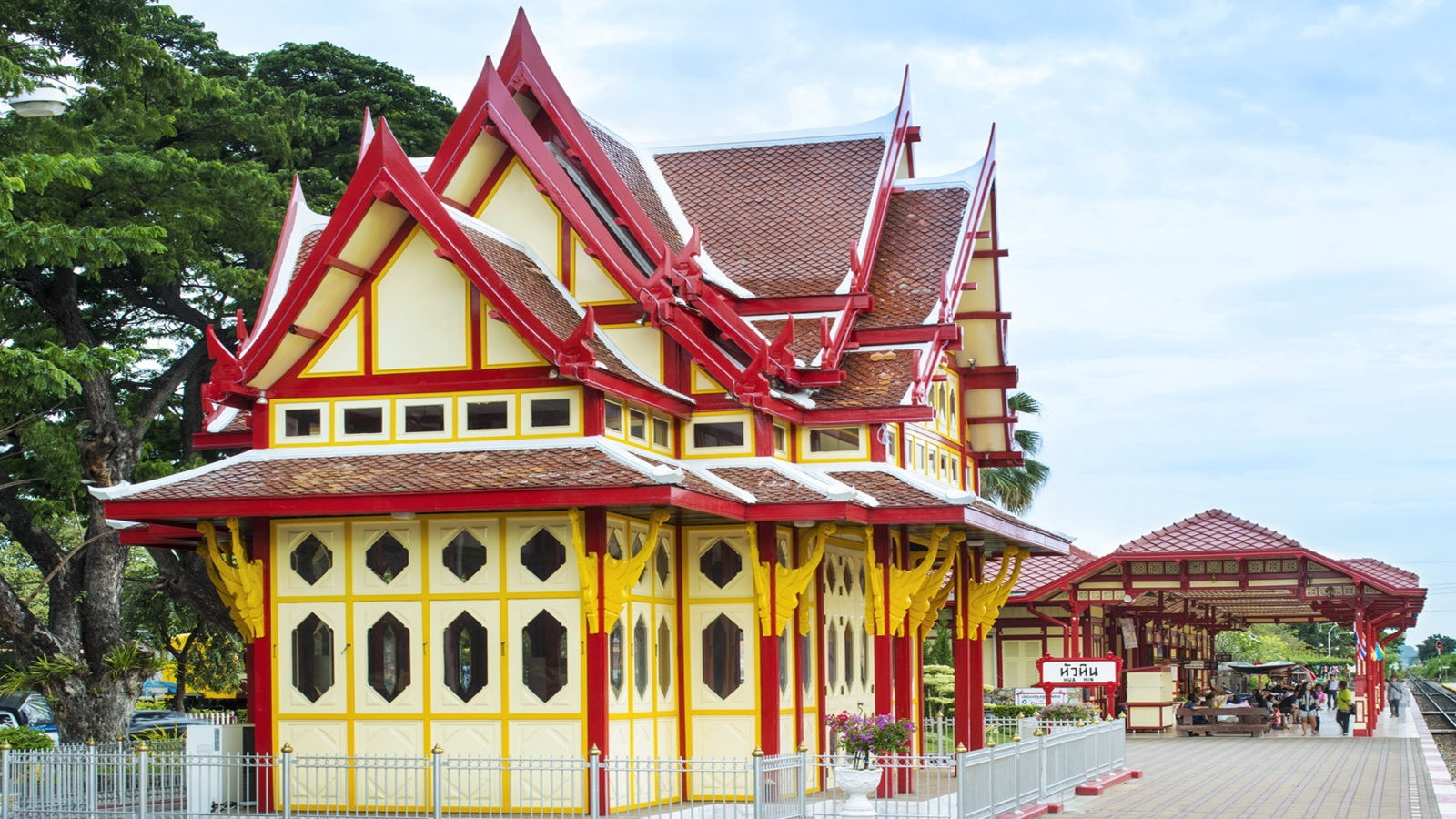 HUA HIN RAILWAY STATION
Hua Hin's attraction lies in the town's charming true color, best illustrated in the country's oldest and most beautiful railway station. Constructed in Thai architectural style, "Hua Hin Railway Station" was built in the reign of King Rama VI, the station features a Royal Waiting Room, a room which was relocated from Sanam Chan Palace in Nakhon Pathom province.
Hours : 24 hours Daily
Fees: n/a
HUA HIN BEACH
The famous 7 kilometers white long y beach, Hua Hin Beach, is the idyllic backdrop of white sands and the clear blue sea on one side and a delightful blend of cultural and natural attractions both along the coast and further inland. Because of its situation on the Gulf of Thailand the seas are warm throughout the year, which makes swimming and other beach activities pleasurable at any time.
Hours : 24 hours Daily
Fees: n/a
MRIGADAYAVAN PALACE
This teakwood treasure stands on Cha-Am beachfront. It is proudly billed as "The Longest Golden Teak Palace in the World". The Palace was constructed by King Rama VI in 1923. The architectural design of the raised-floor wooden palace, with its three sections facing the sea, was drafted by the Monarch himself. This beautiful edifice is also known as "Palace of Love and Hope" too.
Hours : 8:30 AM - 4:30 PM Except Wednesday
Fees : Child THB 15.-net, Adult & Foreigner THB 30.-net
HUAY MONGKOL TEMPLE
Huay Mongkol Temple houses the largest statue of Luang Phor Thuad of the world amidst a park like setting that attracts numbers of visitors especially on holidays and weekends. The Luang Phor Thuad image sits 11.5 meters high on a pedestal with four other smaller images in niches. The complex also holds a Buddhist temple, a statue of King Taksin the Great on horseback and shops where Buddhist amulets can be bought.
Hours : 8:00 AM - 5:00 PM Daily
Fees: n/a
Photo credit: PRIM NILNGAM
Guest Reviews
Hear from our guests about their stay from 428 verified guest reviews
91%of our guests
recommend this hotel
LaurentP
We stayed in Sheraton Hua Hin Resort & Spa in March 2018 for 2 nights. We basically should have even stayed longer if we knew what was expecting us. We travelled as a young couple with 1 infant of 1 year old. We booked a room with direct access in the lagoon and we've been upgraded to a Suite with direct access to the lagoon (thank you Sheraton Hua Hin & SPG team!). It was a very large Suite, very comfortable, it was just perfect. From the living room and from the bedroom we had these large floors to ceiling glass panels that slide to give access to the lagoon. Both living room and bedroom were large, the bathroom was very large and clean with a great bath tube and a special design for the water. Our room was near the beach area and our lagoon access was also connected with the main area of the pool with an infinity pool near the beach. We had access to the Executive lounge that provides complimentary refreshment and serves food during the happy hours. We didn't use this lounge access that much as we spent most of our time hanging around the pool area and enjoying the pool bar or in-room dining service. The resort is just amazing, it comes with a never-seen-before huge pool/lagoon that basically connects all the resort area. Guests can swim all the way through the lagoon and all along the lagoon/pool, there are some nice settings. The resort is very family and kids-friendly as children have a specific area near the hotel restaurant that gives them activities choices, their own pool and other facilities designed for them. Service at Sheraton Hua Hin is really perfect. We went to almost all their restaurants in the resort and our customer experience was consistently perfect. The staff at the Executive lounge is particularly focused on customer care, every time we've been there, there was a special attention to my pregnant wife and to my little boy. They assisted during the check-in / check-out while I was able to enjoy soft drinks etc. I've been to the Spa and I definitely recommend you to check it out. Treatments are top quality and therapists very professional. To conclude, we definitely recommend this place to anyone that is in the search of a premium quality resort, with high standard in terms of service and comfort. It's a perfect hotel and we definitely will go back there with our kids. This first experience at the resort was a perfect memorable moment!
4.5 /5
Room Comfort

Hotel Staff

Quality of Sleep

Facilities

SPG Recognition

Food & Beverage