Body Massage
Massage therapy has multi-level benefits. The first and foremost is the significant relief from stress the massage provides. In addition, it helps maintain flexibility, reduces the chance of injury, improves alertness and re-energizes the body and mind.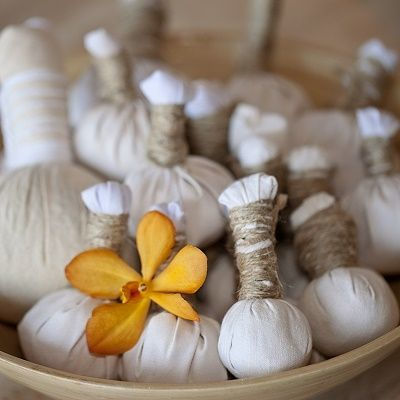 Deep Balance Massage
30 minutes
Specifically eases muscle tension by concentrating on the tight and stressed muscles of any area on your body.A massage recommended for anyone with a buildup of tension in any part of your body; the scalp and neck muscles,or your tired feet, as well as your back area.
Price : THB 1,500 net
Harmony Foot Ritual
60 minutes
A renewal foot scrub will begin to relieve tired and overworkedfeet. Organic thyme and essential oil blends improve micro-circulation. A refreshing salt scrub aids in the removal of dried and dead skin cells, and provides intense hydration. A relaxing foot massage with towel wrap moisturizer application follow, to provide a deeply relaxing treatment which balances from inside to out.
Price : THB 1,900 net
Purify and Relax Back & Shoulder Massage
60 minutes
Specifically eases muscle tension by concentrating on the tight and stressed muscles of the back and shoulders. The journey begins with the purifying sea salt scrub for your entire upper back. Extensive therapy work provides relaxation to the lower and upper back, shoulders and neck area.
Price : THB 2,500 net
Traditional Thai Massage
60/90/120 minutes
Our therapists use a traditional combination of deep tissue, pressure point and stretching techniques to relieve tension, stretch joints and promote the balance of energy in your body. This is an ancient and traditional art, which leaves you with an extraordinary sense of well-being.
Price : THB 2,400/ 3,200/ 4,000 net
Aroma Fusion
60/90/120 minutes
Rediscover the ancient art of aromatherapy and experience the healing powers of essential oils as we help you journey towards total relaxation, and help to balance mind, body and spirit. We use different blends of oils as personally selected by you.
Price : THB 2,800/ 3,700/ 4,400 net
Sports Massage
60/90/120 minutes
This special massage is designed to relieve sore muscles and joint-pain after heavy exercise or a long hectic day. The perfectly designed elbow and arm techniques will work on areas of tightness and stiff muscles.
Price : THB 2,800/ 3,700/ 4,400 net
Energizing Blended Massage
90/120 minutes
Our own charming blend of Aromatherapy Massage, Traditional Thai Massage and Sports Massage, working on the entire body. Suitable for relaxing, rejuvenating and relieving all tension. Highly recommended for massage lovers.
Price : THB. 3,700/ 4,400 net
Hot Stone Element Massage
90 /120 minutes
Hot stone massage is a variation on classic massage therapy. Heated smooth, flat stones are placed on key points on the body. The massage therapist may also hold the stones and use them to massage certain areas of the body. The effects are both emotional and physical, as massage techniques to vital energy centers, with lavender essential oils, reinforce our holistic approach.
Price : THB. 4,000/ 4,800 net